I started this blog a few weeks back, but with changing everything over, it's kind of fallen to the side. So, I'm back with friends to entertain us with their reading choices.
Please help me welcome Colette from
A Buckeye Girl Reads
.
1. What genre is your favorite?
It's a tie between Urban Fantasy and Paranormal Romance. When I started blogging it was historical romance. I love UF and PNR because the heroines aren't afraid to kick butt and take names.
2. How do you like your romance? Sweet, Hot, or Ouch-you burned me?
I love the Ouch you burned me romances! I've also recently fallen in love with ménages,
3. Why do you blog?
I started blogging because I thought it would be a neat way to keep track of what I've read. I keep blogging because of all the great people I've met doing it.
4. What turns you off about a character?
I hate it when characters spend the whole book fighting only to realize they love each other in the last 50 pages. That's not a romance to me! I also hate it when the heroine is wishy-washy. I love him, but can't because of x, y or z. I often scream "make up your mind already!" to those heroines.
5. Do you watch trailers?
No. I always get frustrated when they take too long to load on my computer and give up watching them.
6. Who is your favorite book hero?
My current favorite book hero is Desmond, a were shapeshifter from Sierra Dean's Secret McQueen series.
7. Do you keep swag? Or does it end up in a wastebasket somewhere?
It depends on what it is. I normally don't keep buttons, mini calendars or bookmarks. I always mean to use them, but never do and they just clutter really easily. I always forget to include them in a giveaway. What's your fave swag? My favorite swag is magnets! I also won a really cool hat, tote and pen from Gini Koch that I love.
8. If you could marry one fictitious hero, who would it be?
This is a hard one! I have a three way tie between: Jamie Frasier, (Outlander by Diana Gabaldon) Jericho Barrons (Fever Series by Karen Marie Moning) and Jeff Martini (Kitty Katt Series by Gini Koch)
Thank you, Colette, for letting me pick your brain. You are a super sweetheart! To my friends, if you'd like to meet this wonderful book blogger, go find her at: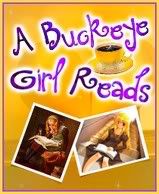 Leave Colette a message and I'll coax her to come play later. Maybe you'd like to share who you'd marry! :)